Course details
«Only dishes» 【Boiled fish】 【Confucius Karaki】 ~ Hiroshima's Shun Setouchi meeting ~ (10 items in total) 5400 yen (tax included)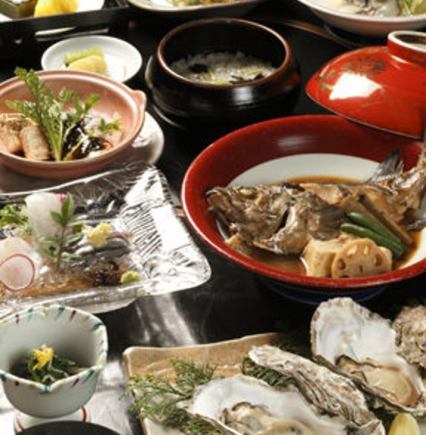 By using a coupon5400 yen
It is a dish only plan.
Reservation deadline

Until 21:00 on the day before the desired store visit
Available days for reservation

Monday - Sunday - Public holidays - Holidays
It is a very pleasing course for customers coming to Hiroshima, using season's Setouchi material.Ideal for entertainment and hospitality.[NET reservation acceptance in progress !!] * It is also possible to make it all-you-can-drink for 120 minutes.Please contact us ☆
Course menu
■■■ Greeting party ■■■
【First appointment】 Seasonal items
【Sori】 Tiger Fuso Sashimi (Reservations only will be accepted)
Or sashimi with three kinds of fresh sashimi of that day
(Soda sashimi entered by arrival)
【Absorption】 Scented tailoring Fire blowfish Fuku Kikina
【Cooking matter】 Oyster Seto-yaki or Confucius Hako
【Braised product】 Boiled small fish on that day or boiled with natural sea bream
Or seasonal vegetables simmered
【Strong Relishes】 Tiger Fugu Shirako Tortoise Silver Azashi Oroshi Sansea
【Vinegar matter】 Sardine Minami Boku
【Lifts】 Mushrooms and vegetables Tempura
Or Tora Haze Tempura
Or Soya Temple
Or oyster fried
Or fried oyster Tatsuta
【Meal】 Warm Green Tea Soba
Or noble cooking
【Sweets】 Matcha jelly
* The contents may change somewhat depending on the purchase situation.
2018/11/30 update